Dudiedog Bandanas and How It All Began

Nearly 10 years on, and here's the story, for those of you who don't already know it!
Before Dudiedog
10 years ago I'd never turned on a computer, and the idea that I could run an ecommerce business would have seemed crazy to me. I was an artist, and technology didn't seem at all relevant to what I was doing. Life was starting to get exciting.... I had an agent, exhibitions and a growing number of followers of my work. I was a trained artist, I loved painting, and couldn't imagine doing anything else.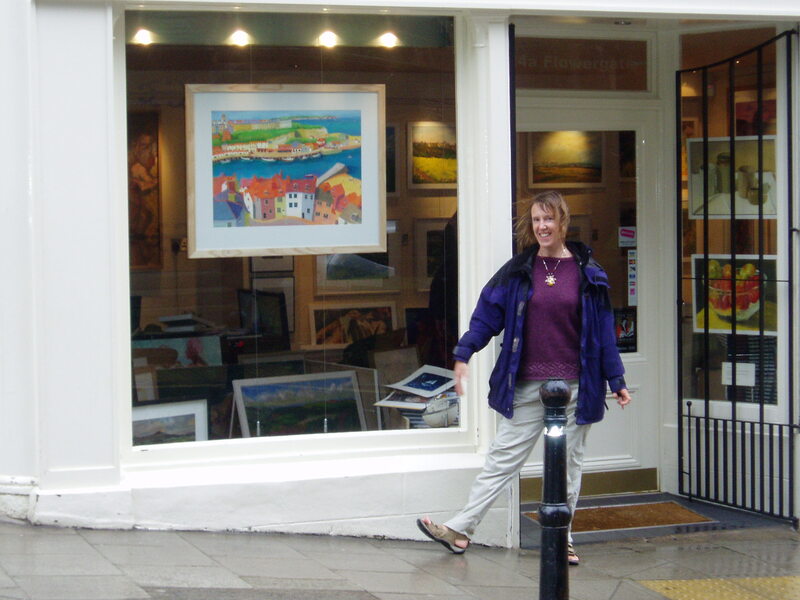 A proud moment as my paintings were given pride of place!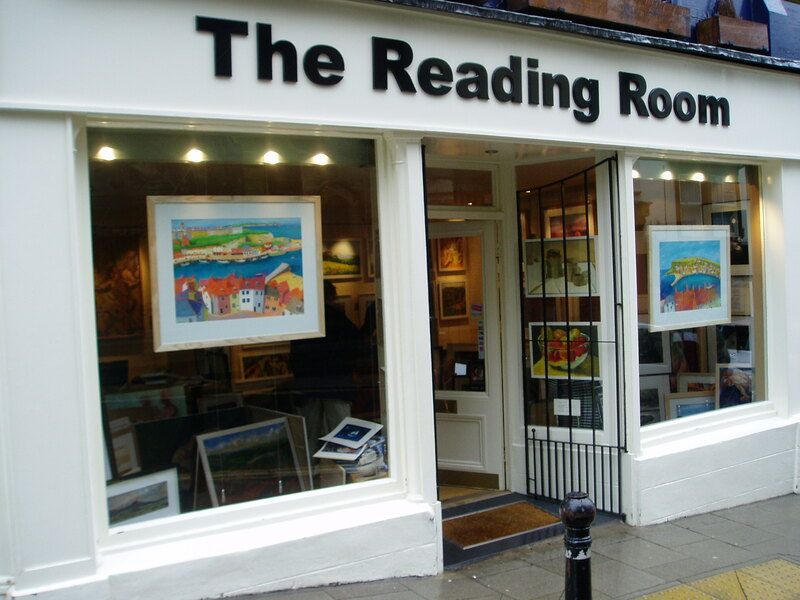 The first painting found it's new home within a couple of days, travelling to Australia!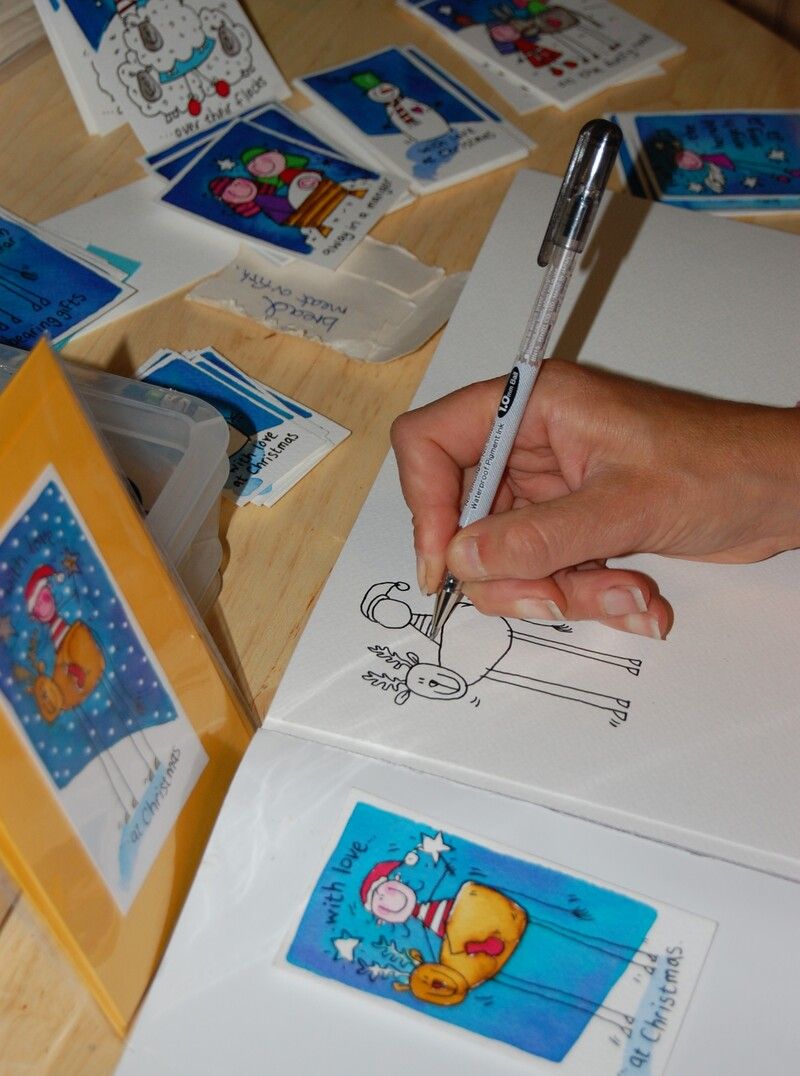 Another fun pastime before Dudiedog was my little handmade card company....The Little Happy Card Company. Although everyone loved them, they took so long to make I would never be able to make money!!
The Arrival
Skye Blue had arrived on a misty day one September. He wasn't going to stay. He was a puppy, alone and lost on Malham Moor. He was adorable...someone was surely missing him. James was working up there, and called me to say he was bringing a puppy home for the night. There was great excitement when we collected Flo from school, with the puppy! It was hard explaining to her that he wasn't ours, and that he would be going back to his proper home the next day. That, of course, didn't happen. Mysteriously this beautiful 12/13 week old puppy remained unclaimed.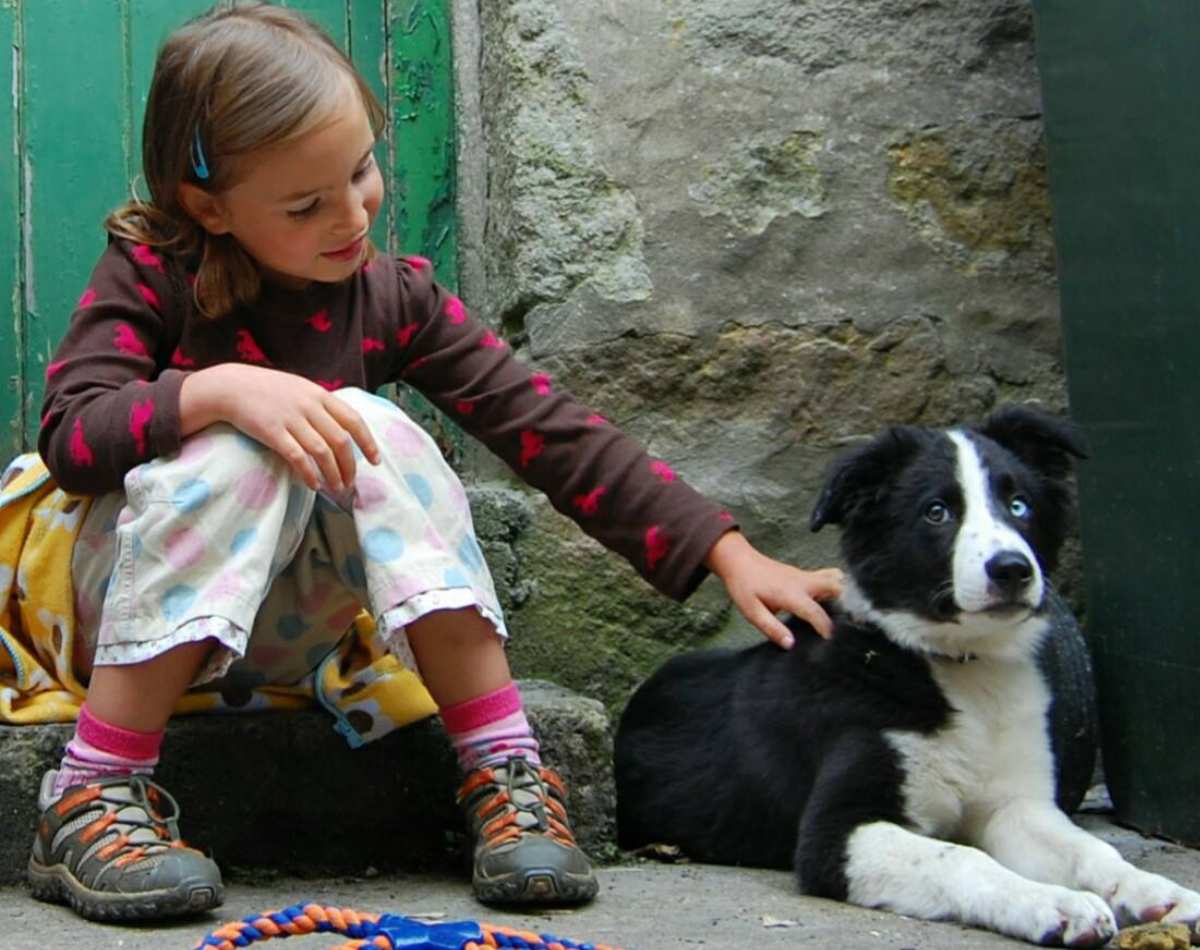 The day that Skye Blue arrived
Skye Blue's first night with us. This is where they both slept...the utility room floor!
Changes
But life changes, circumstances change, and Flo, our daughter, wanted us to make a bandana for Skye Blue! Well, she actually wanted us to buy one from a stall at the big dog show we visited about four years after his arrival. I suggested to her that we could make a much nicer one from some fabric we had at home in our crafting corner! We were pretty big into arts and crafts! She even painted what she thought a Dudiedog would look like...he seems to live in Egypt by the pyramids, and enjoys cocktails! This drawing was actually the original inspiration that led to th Dudiedog logo.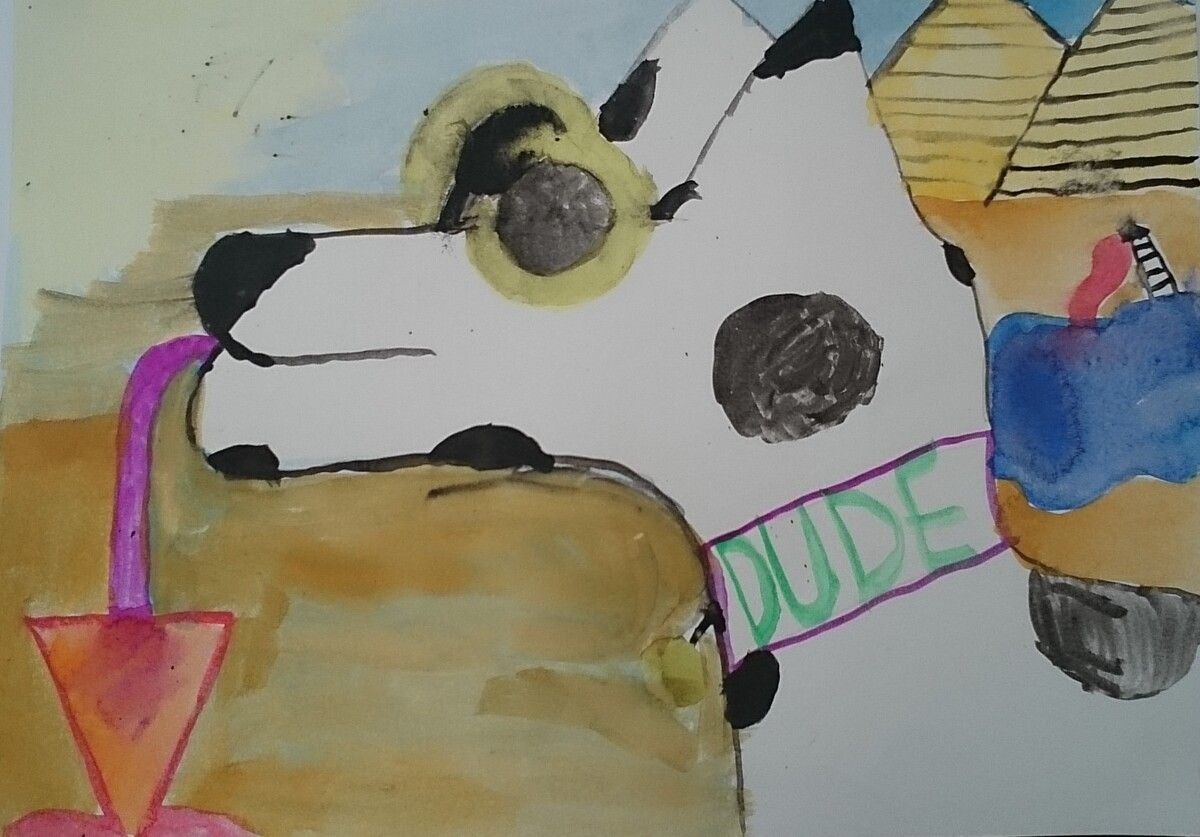 The first Bandanas
Skye Blue looked great in his first bandana, nearly 10 years ago! Friends saw him, and wanted a bandana for their dogs too. Lots of tourists visit our area of The Dales, many of them for the great walks, and many with dogs. Flo would have been about 10, and liked to go out along the river bank with a basket of bandanas, selling them to walkers with dogs. She was a great little saleswoman! I don't think anyone ever turned her down! We also turned up at local events like the Skipton boat festival, and in July 2014 the Tour de France passed through a couple of miles down the road. We sold a basketful of yellow bandanas really quickly! Everything was official and done correctly of course...we'd bought a pedlars licence at the local police station. These are surprisingly cheap, and originate from the Pedlars Act of 1871!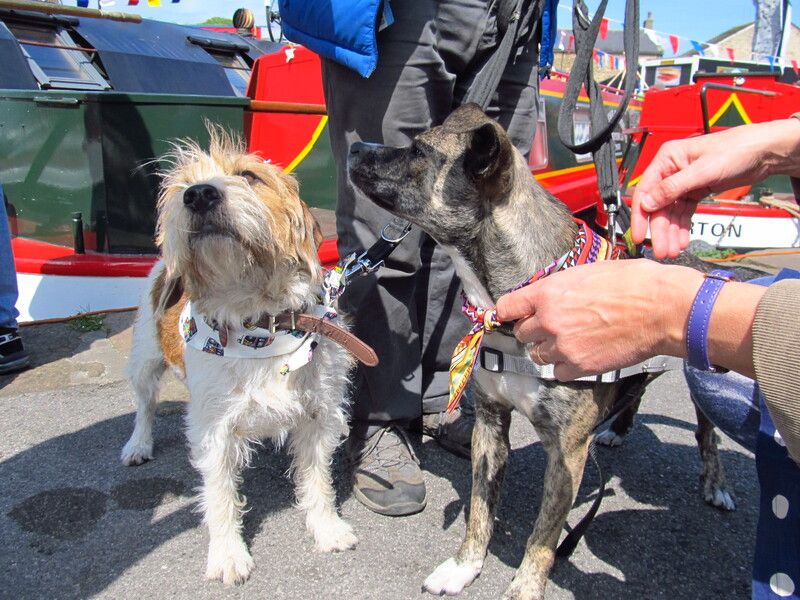 Fitting bandanas at the Skipton Waterways festival
The next Christmas we took our first little stall space at the Grassington Dickensian market. I'd bought one roll of Christmas cotton, and I sewed it all up into bandanas, and we sold out in the first week. I bought more cotton fabric, and spent the next week sewing like crazy, and at the second week of the market we sold out again. This was the point where we realised that this could actually be a business.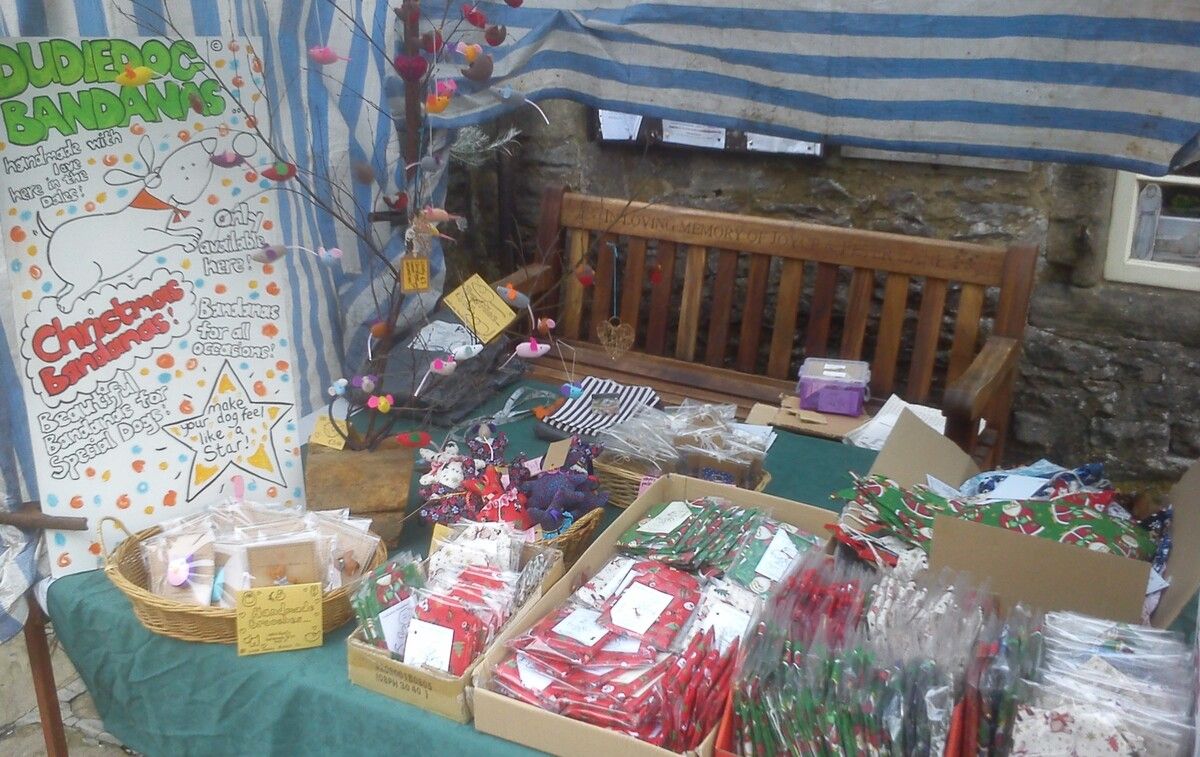 Our very first stall at the Grassington Dickensien Market...not terribly professional looking, (see the funny cobbled together handmade signage!) but it was lots of fun, and we completely sold out. (I'd also made tree mice, felt brooches and bunny pin cushions!)
Technology
Next came the technology. This was a steep learning curve for me. I had to gen up on computers, which I wasn't thrilled about! James built the first website, with some help from a technically minded relative. It was quite a while before I got used to the complexities of the internet, but along the way I've learned a lot. My love of, and desire to paint is still on hold, but I love fabrics too, and I think my artistic eye has helped me to choose designs that work for the items I make.
Supermodel & product tester
It turned out that Skye Blue was very keen to model our bandanas. He's always been a great product tester, our theory being that if it could survive Skye Blue it would be durable enough for any dog!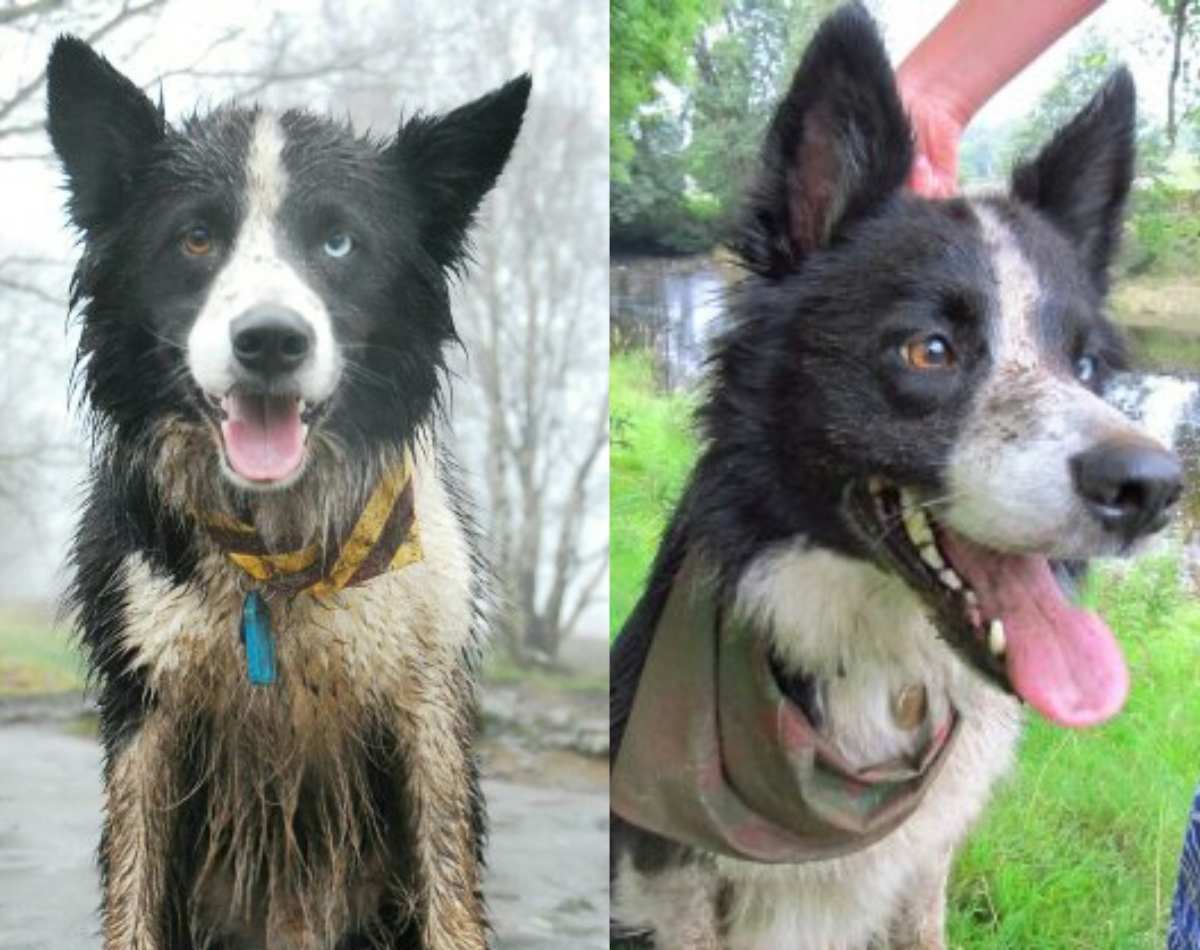 There were times when we couldn't see the bandana for mud....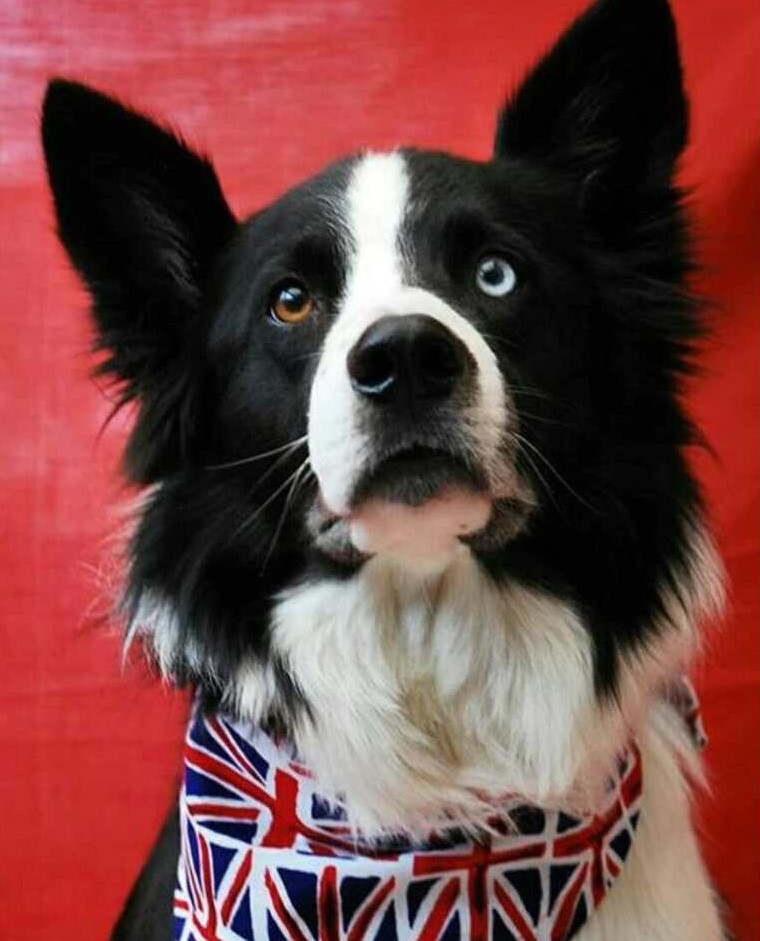 ...and times when he couldn't be more perfect!
Ten Years on
The years have flown by, and suddenly we find ourselves on the verge of Dudiedog's ten year anniversary, and Skye Blue is a couple of months off his 15th Birthday! Our bandanas sell all over the world, but we're still the small and friendly cottage industry we started out as. All Dudiedog accessories are still designed and handmade by me. I get REALLY busy sometimes! I'm a huge fan of vintage sewing machines, and most orders are sewn on either Morag, Moira, or Marlene....two Singer 201ks (the Rolls Royce of sewing machines), and a Singer 401 Slantomatic. I've found these to all sew far neater stitches than modern machines, with the added benefit of being more reliable too. Bow ties and sailor bows are sewn mostly by hand, at snail pace, with a needle and thread! Over the years we've created many new designs, added sizes, added products...the Droolbuster dog bibs were the first addition, then bow ties, and recently we added the sailor bows too. We've always tried to create the most beautiful pet accessories, and to make the business as eco friendly as possible. We never compromise on quality, and never cut corners to try to save money. All of our packaging is plastic free... it's recycled and / or biodegradable, recyclable or compostable. We try really hard not to waste anything, and what we can't use we give away to organisations that can. Everything is handmade to order, meaning we don't create the inevitable waste made from mass production. Slow fashion is becoming more of a mainstream idea these days, and because our accessories are made to such high standards, their life should be long too. I know of at least a couple of our Dudie customers who have been wearing the same bandanas for nine years. They're looking a little faded, but are still in one piece!
Challenges
The years haven't all been easy, and I still haven't managed to save up for the little camper van I always dreamed of! There have been times when I've seriously thought that I can't carry on...tiredness, stress, life throwing challenges that seem at the time to be so huge and impassable that carrying on doesn't feel possible. But I'm not a quitter, and we've had a lot of fun over the years, met so many lovely people and their pets, I'd do it all again! Particular low points were James's triple heart bypass a couple of years ago, Brexit, Covid, postal strikes leading to the loss of Christmas trade this year, and then the coming to a standstill of the previous website, and subsequent rebuilding over the Christmas/new year period. (Something I NEVER plan to do again!) Oh, and Google continues to be a perplexing & ever-changing mystery!
And of course, we wouldn't be here without all of you, many who've been with us from the very beginning. A huge thank you to you all, for your friendship, and for championing the Dudiedog brand.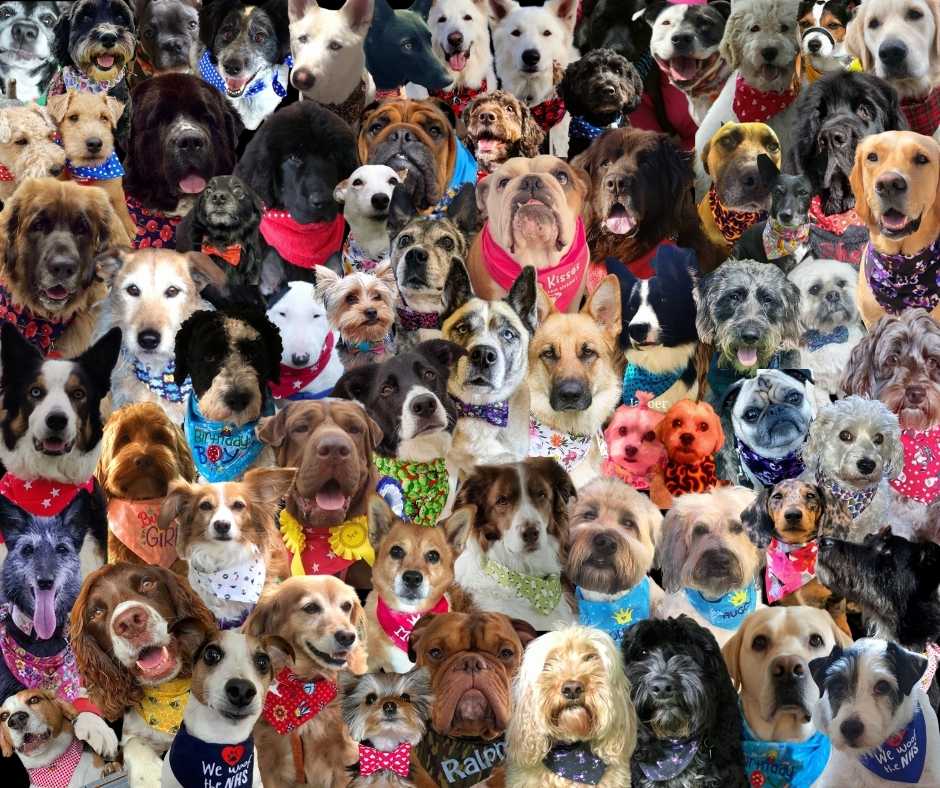 We hope you've enjoyed finding out a little bit about Dudiedog Bandanas. To keep an eye on what we're getting up to be sure to follow our social pages, and sign up for the newsletter on our website. Thank you for reading!